Hair thinning is a significant concern for a number of individuals, whether it's brought on by genetics, age, hormones, health conditions, or from styling practices and/or products. With current advances in research within the hair restoration industry, new procedures are being made to help fight the condition. Platelet-rich plasma (PRP) is an advanced nonsurgical treatment for men and women that's showing remarkable results in slowing, stopping, and even reversing hair loss. PRP has also shown promising results in individuals with alopecia areata or thinning eyebrows. Dr. C. Michelle Marsala of MD Boutiques at Pine Creek is one of a small number of medical practitioners to give this revolutionary treatment in Colorado Springs, CO. By combining a strong solution of hair growth factors and bioactive proteins, Dr. Marsala can help to strengthen your hair, resulting in thicker, longer, healthier locks.
Reviews
"Dr. Marsala is wonderful! She is kind, compassionate, competent, professional, honest, and caring. Every visit to the spa is exciting and educational!! I highly recommend this local spa."
- N.E. /
Google /
Jan 18, 2020
"Excellent and professional staff, nice relaxing atmosphere. Michelle makes you feel like an old friend."
- B.W. /
Facebook /
Sep 15, 2020
"Clean, good service, very friendly staff 💕"
- A.T. /
Google /
Feb 18, 2020
"I started going to this salon. Last year and I'm so happy to have found Dr Marsala!!! She gets this 5 star review for a reason! She puts her heart and soul into this and cares deeply about you and what your wanting to achieve and will be there every step of the way. Michele your the BEST!!!"
- W.J. /
Google /
Jan 29, 2020
"Dr. Marsala is truly passionate about her work! She puts everyone at ease and answers all of your questions fully and unrushed. She has so much experience that you know you are in good hands. Don't hesitate to visit this boutique for all of your Aesthetic needs"
- N.I. /
Google /
Nov 30, 2019
Previous
Next
Any man or woman experiencing certain types of hair loss is potentially a good candidate for PRP treatments, while patients with early hair loss tend to respond best. PRP is best suited for those with androgenic alopecia, an inherited type of hair loss that most often presents on the top part of the head. For women, this could appear as a broadening part with normal hair density on the backside of the scalp. Those with areas of "poor quality" hair growth of the scalp with normally reacting hair follicles usually have the greatest success with PRP hair regrowth therapy.
A nonsurgical process, the PRP treatment is a brief, one-hour, in-office visit. The process starts with acquiring a little bit of your blood and putting it in a specialized machine, which spins the blood at high speed to remove the platelets from the rest of the blood elements. After that, a local anesthetic will be applied to your scalp, and the platelet-rich plasma will be introduced into areas that are showing hair loss or thinning. Then, microneedling will be performed on the scalp to cause micro-trauma and micro-channeling of the epidermis, which triggers the PRP and allows it to seep deep into the skin. Our PRP therapy for the nonsurgical management of hair loss consists of an initial treatment session as well as maintenance sessions approximately every nine months to a year.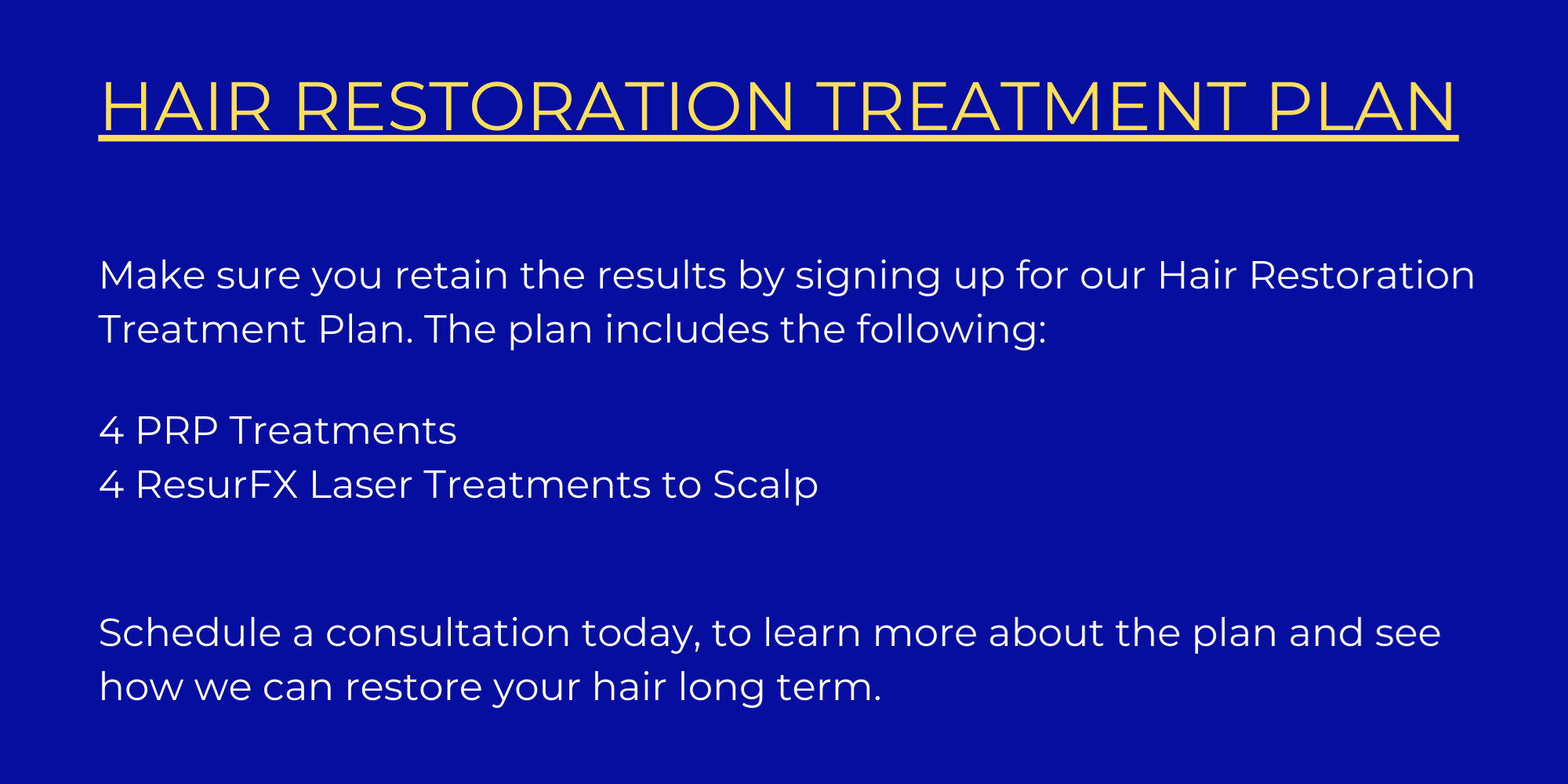 There is no recovery period necessary after this process, with virtually no limits or constraints. If anything, patients may develop some discoloration, minor swelling, and mild discomfort to the treated regions. These symptoms may last up to two days. While outcomes differ for every individual, aesthetic results are usually noticed approximately 4 – 6 months after the initial session and will continue to improve for as much as a complete year following therapy. Since PRP isn't a permanent solution for reversing hair loss, follow-up sessions are recommended every 12 – 18 months. As a patient at MD Boutiques at Pine Creek, you will have specialized personal follow-up care, so you'll have your own customized maintenance schedule. It's crucial to note that PRP doesn't develop new hair follicles in areas where you're already bald. It's utilized to help reverse the miniaturization of hair follicles so they will create fuller, healthier, longer hair fibers.
Frequently Asked Questions
How much does PRP hair therapy cost?
PRP therapy costs can vary according to many factors, including your number of treatments. At your initial consultation, we will create your PRP treatment plan and then discuss the overall estimated cost of your PRP therapy. We will also discuss current specials being offered and which payment methods MD Boutiques at Pine Creek accepts.
Can I get PRP hair therapy with other hair treatments?
Yes. Many other treatments, including at-home topical medications and microneedling, can be used in combination with PRP hair therapy. Before we design your personalized PRP treatment plan, including any combination treatments, we will thoroughly examine your scalp and level of hair loss. Our recommendations for your plan and any at-home treatments will be based on this examination.
How many PRP hair treatments do I need?
Typically, at least three PRP treatments, done about four weeks apart, are necessary to obtain results. However, every patient is different, so your PRP plan will depend on how much hair loss you've experienced, as well as your goals and expectations. At your initial examination, we can talk about how many treatments you will likely need and how frequent the will need to be. If you have experienced significant hair loss or thinning, you will likely need more treatments, more frequently, at first.
How much of my hair will I get back?
PRP treatment cannot stimulate growth in hair follicles that have already died, so you will only be able to see results in areas of your scalp that are thinning or experiencing loss. Areas that are already bald will not regrow hair. Beyond this limitation, your results will depend on many factors, including how many treatments you get and how much thinning and loss has occurred. Also keep in mind that it takes some time for new hair to grow, so results are not visible for a few months. At your consultation, we will discuss whether you are a good candidate for PRP and the results you can realistically expect.
Does the procedure hurt?
We can treat your scalp with a numbing cream or ointment before your procedure to help reduce any discomfort you might experience during PRP therapy. After your procedure, the skin on your scalp might tingle a bit or remain numb temporarily. It should return to normal not long after your therapy is completed.
PRP hair therapy is a medically and clinically backed option for those struggling to find hair-loss solutions. At MD Boutiques at Pine Creek, we strive to offer proven solutions to efficiently address hair loss. To learn more about PRP therapy, we invite you to contact our Colorado Springs, CO facility today.
Related Procedures